Eco-friendly Outdoor Rubber Mat for Playground PM-001
- Model Number: PM-001- Dimension:1) 50*50*2.5cm; 2) 50*50*3.0cm; 3) 50*50*3.5cm4) 50*50*4.0cm; 5) 50*50*4.5cm; 6) 50*50*5.0cm- Material: Rubber- Colors: Black / Blue / Green / Red / Yellow- Service Life: 5-10 years
Description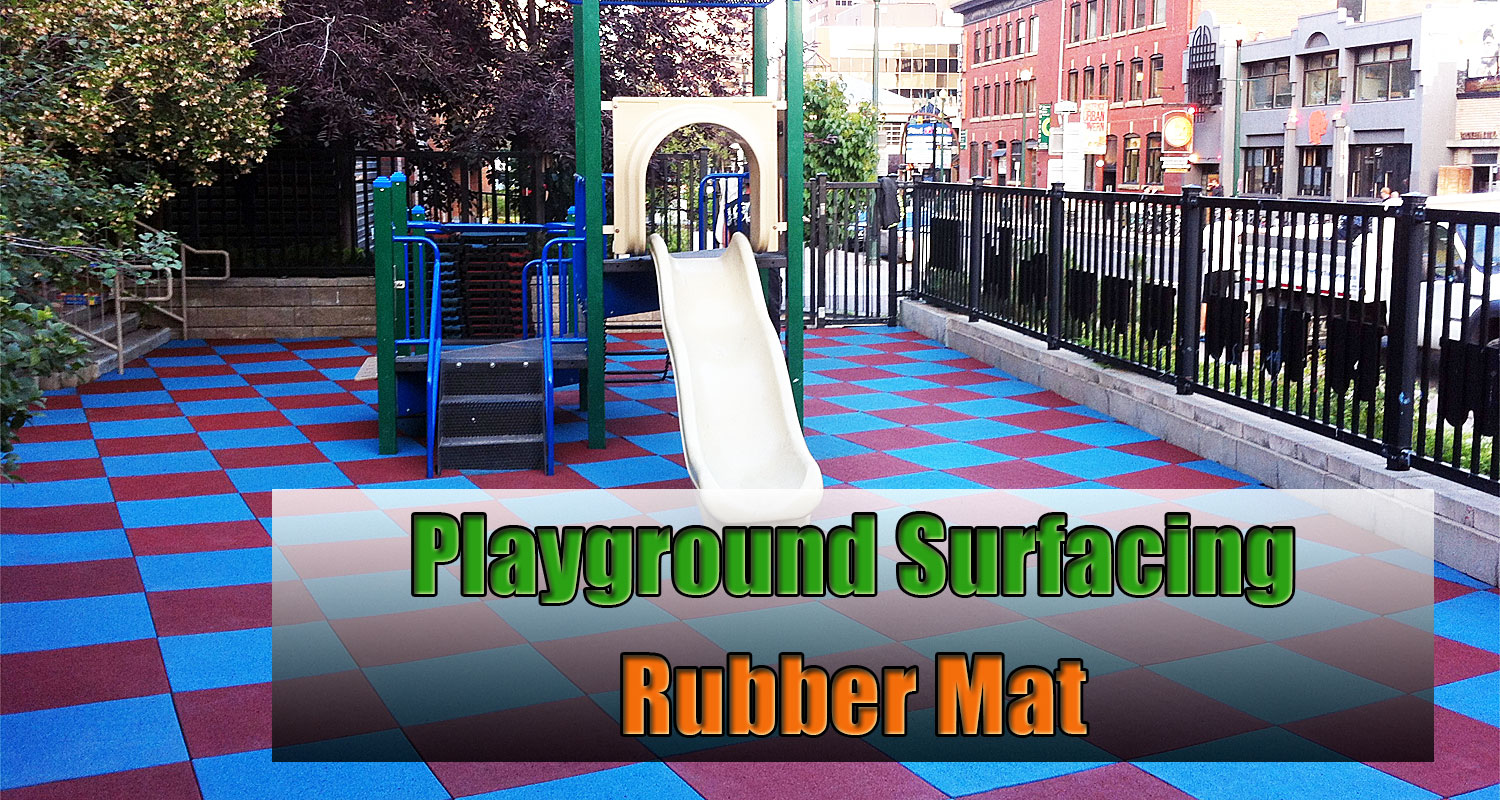 A playground surface is the material that lies under and around swings, slides, monkey bars and other playground equipment.
The surfaces are usually made of wood or rubber and designed specifically for aesthetics, child safety, and/or ADA wheelchair accessibility. Playground safety surfacing often involves the use of recycled rubber tire products such as poured rubber, rubber tiles or loose rubber mulch.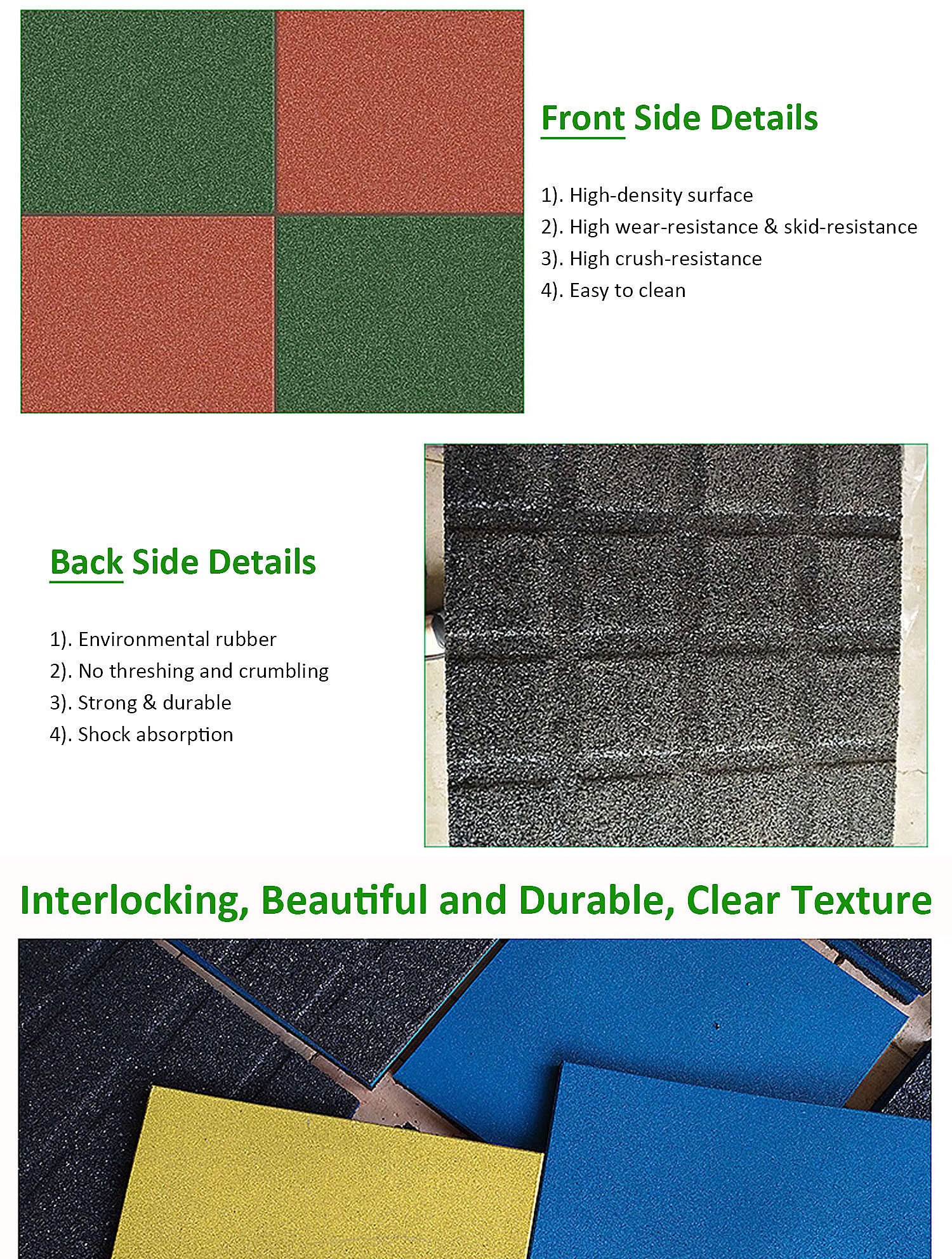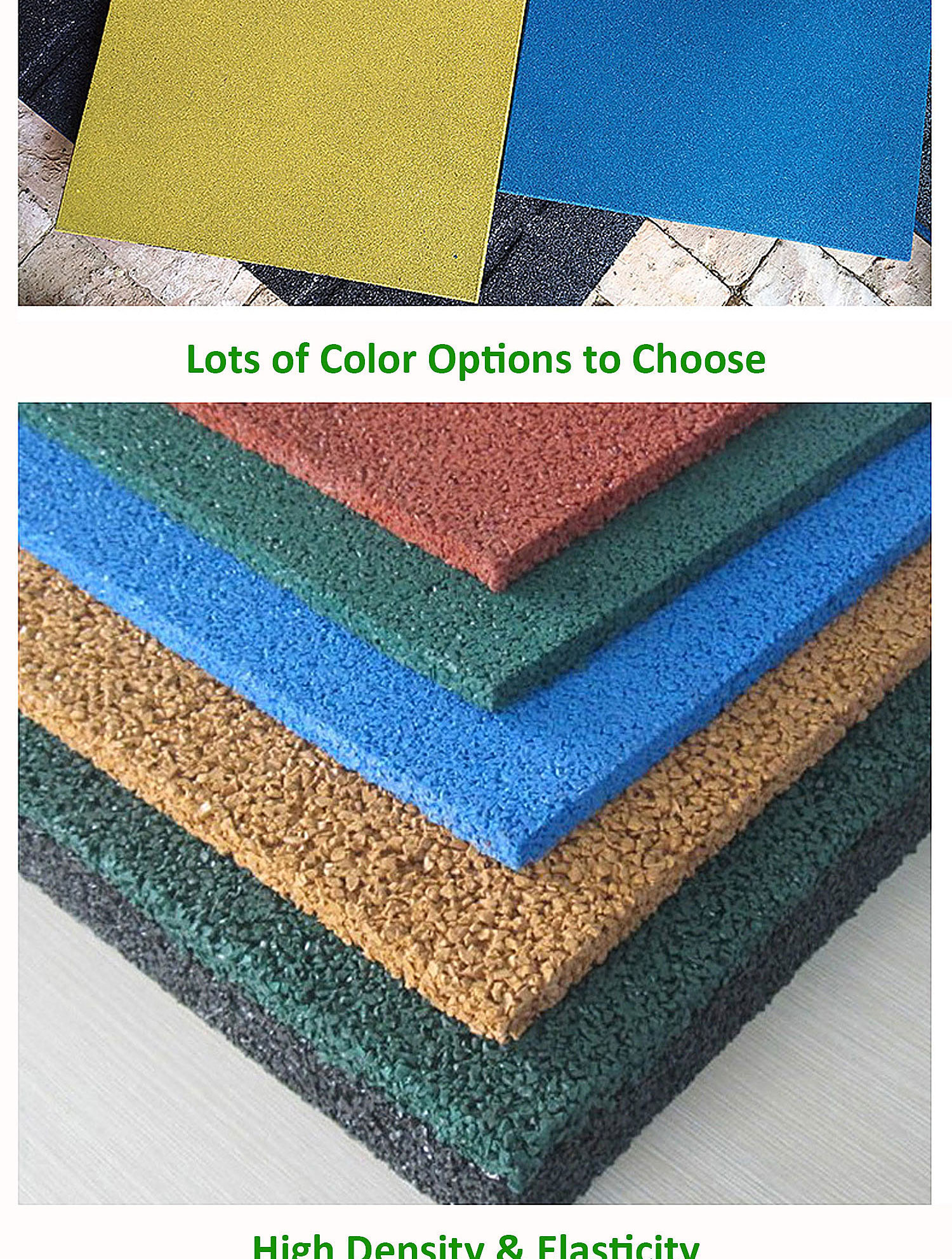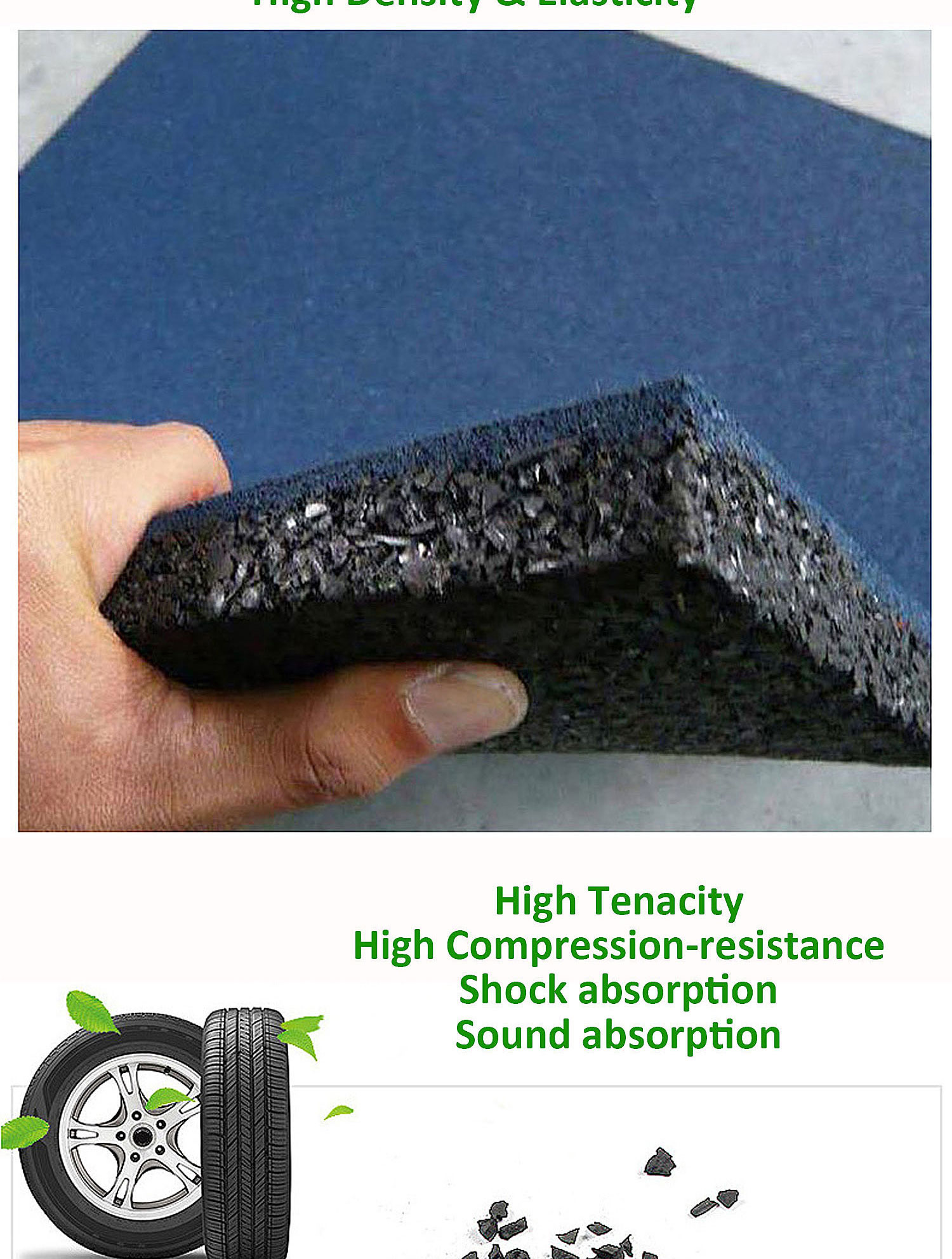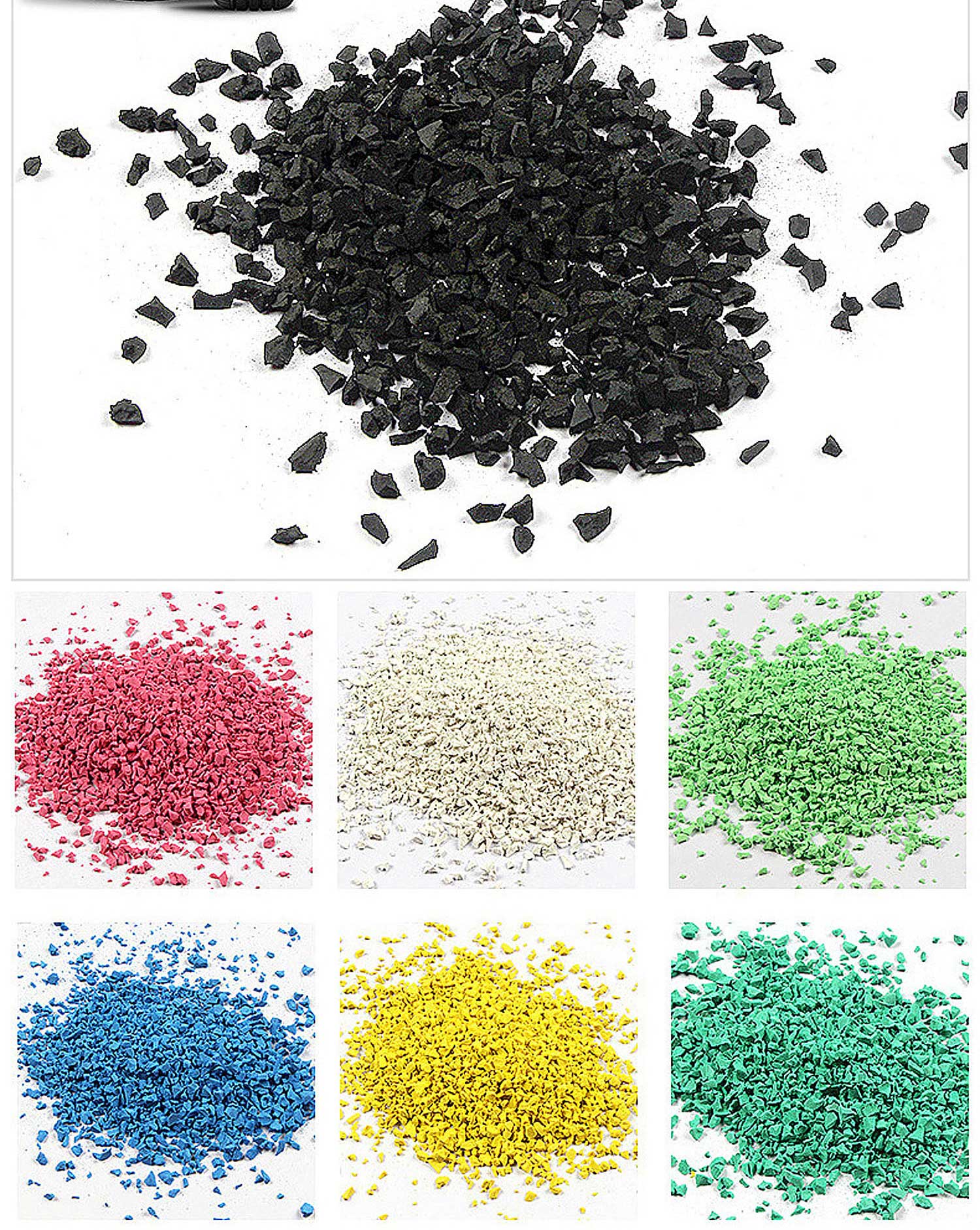 >>> Installation:
Step 1 - Measure your Playground
Before you can begin installing the mats, you need to be able to measure the length and width of the playground flooring. This will give you a good idea of how many rubber mats you will need to completely cover the floor. Measure carefully, and then take a note of this length to the store that stocks the rubber mats. You may also decide to take the tape measure so that you can calculate the size of each mat. This should allow you to work out exactly how many mats you need. Don't be afraid to cut some mats in half to completely fill the room, and also remember that you will need some extra, just in face of mistakes.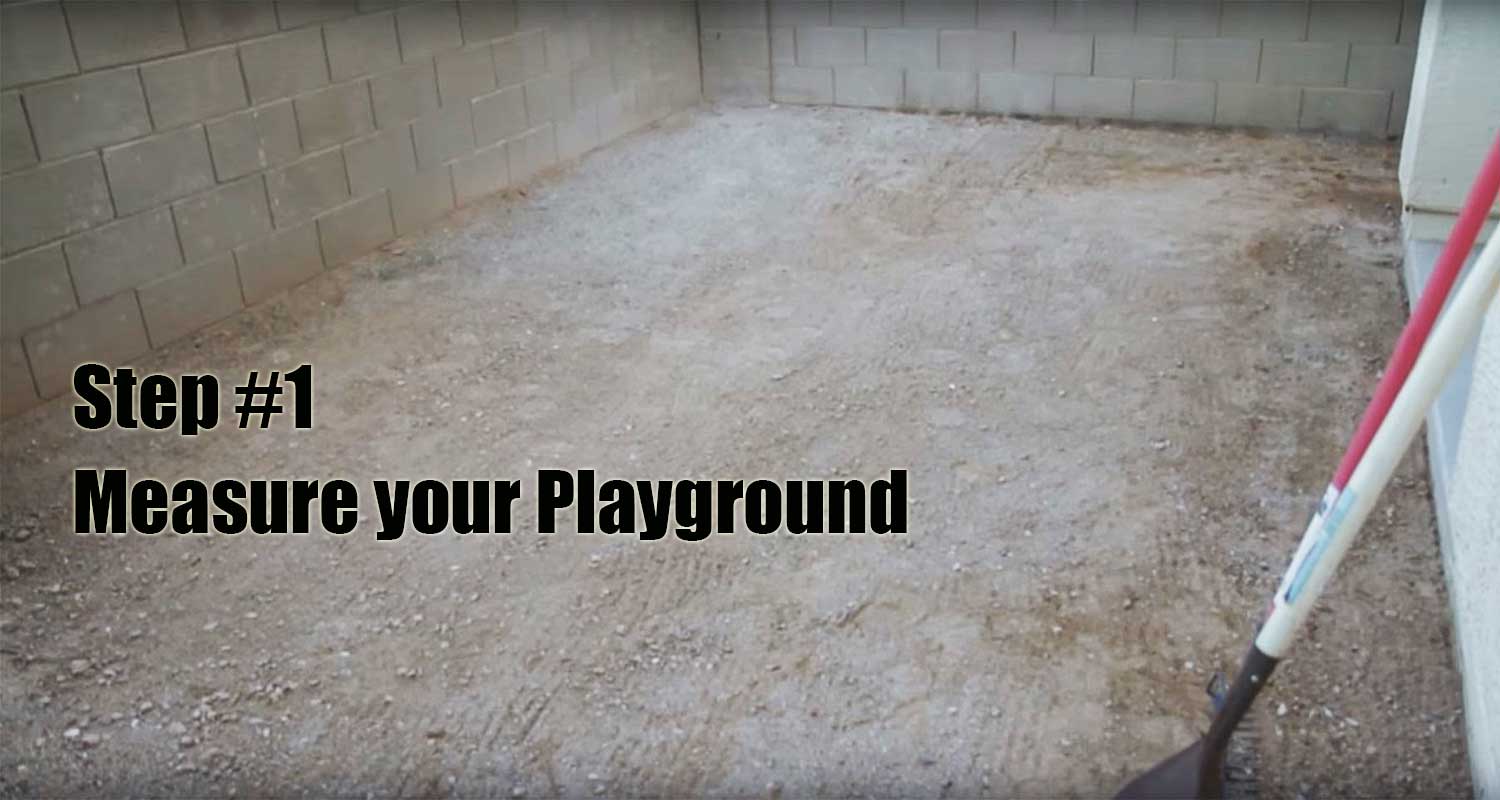 Step 2 - Clean the Floor
When you are ready to start laying the rubberized playground flooring, you should begin with a good sweep. Clear out any stones, twigs, lumps of dirt or wrappers which are laying on the floor, and try to ensure that it is as clear as you can make it. This will help you to lay the mats down flat, and avoid there being bits underneath which could compromise the safety of the playground flooring.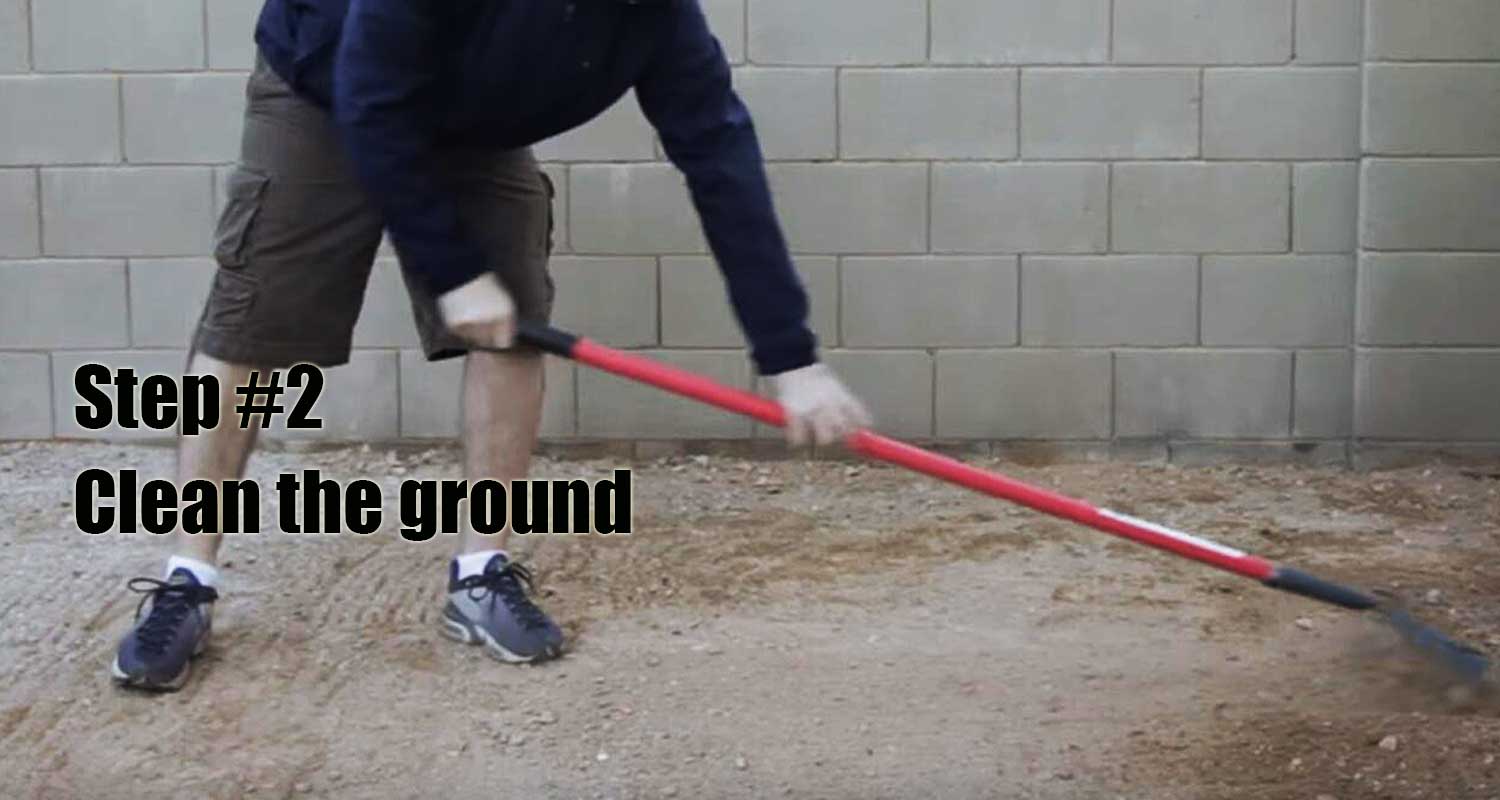 Step 3 - Lay the Mats
Put all of your rubber mats against the wall nearest the door. Pick up one mat, and your glue, and cover the former with the latter. Lay it against the far corner of the room. You should then take the next, and repeat until you come close to the opposite side of the room. You can then measure your mat, and cut it down to the size required.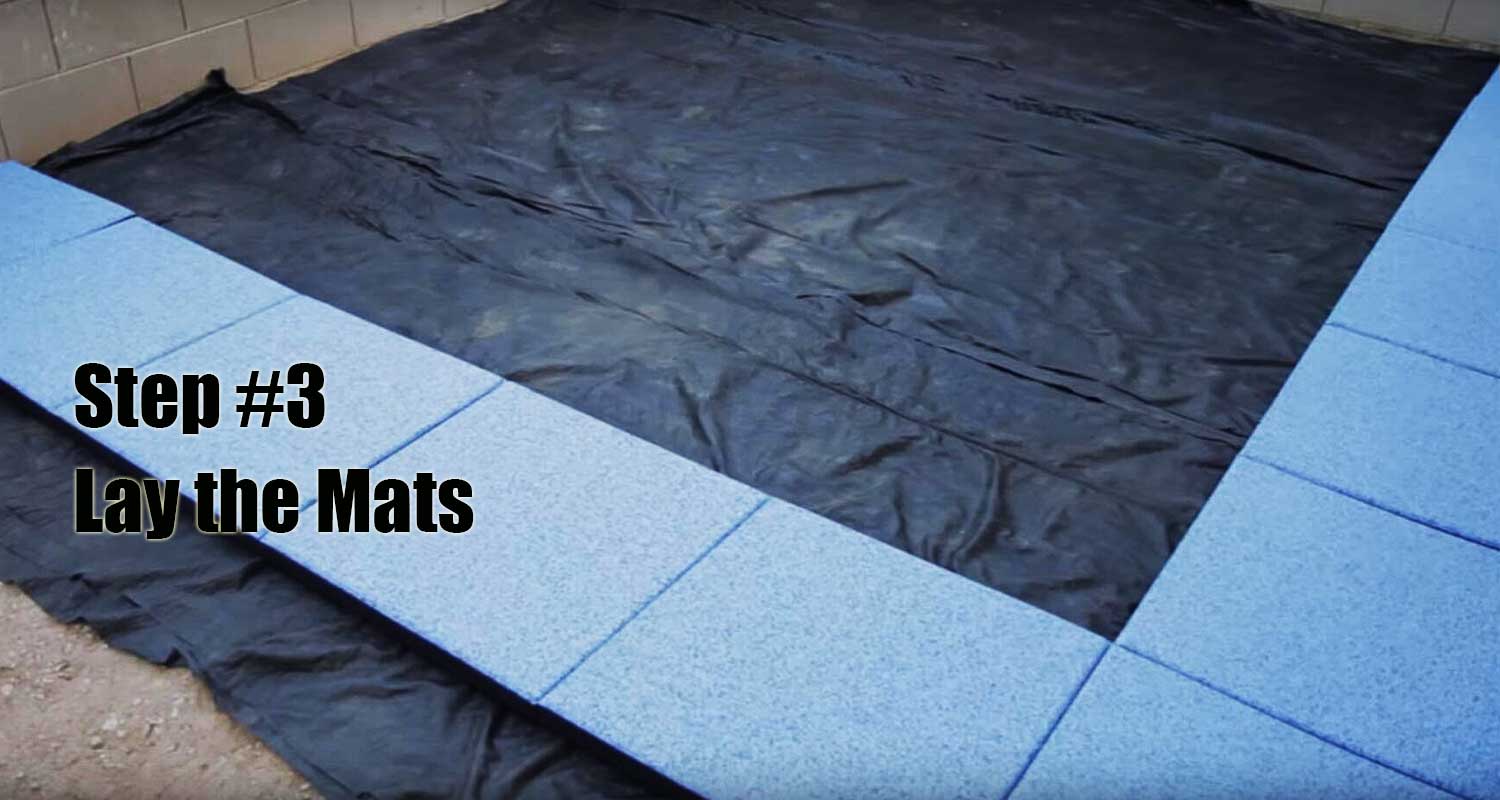 Step 4 - Laying Jigsaw Mats
Some rubber mats come in the form of jigsaw pieces, meaning that you can lay one flat, and then add the next mat directly onto it. These mats form a tight seal, and if you are using these, glue will not be necessary, although it is a good idea to stick down the tiles on the side nearest the door, so that they cannot be rucked up by children. You could also seal it using a piece of double-sided flooring.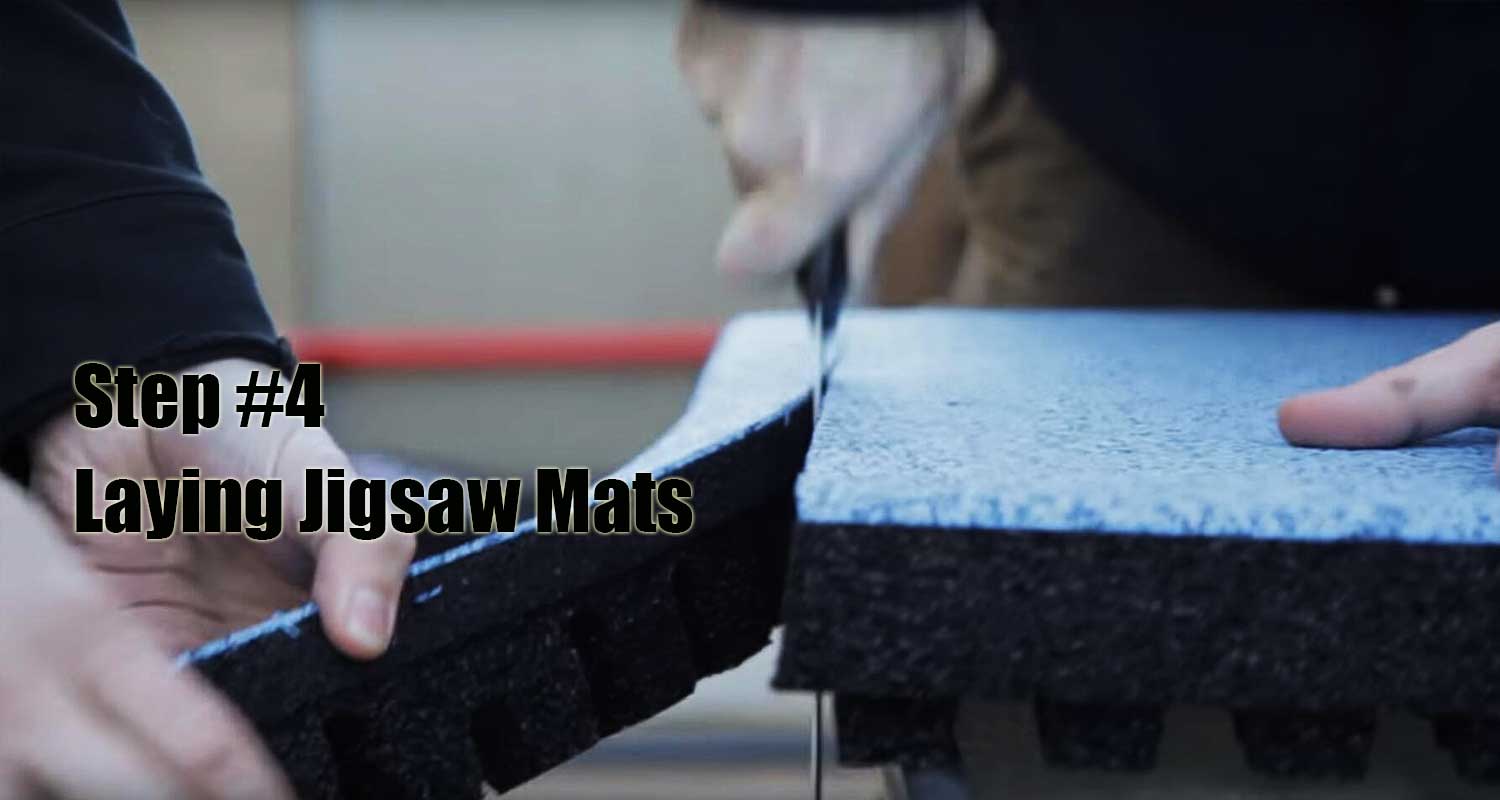 Basic Information:
1. MOQ: 100 sqm
2. Lead Time: Normally 10-15 days for goods up to one 20GP container.
3. Delivery Time: 10-30 days. Depends on the way of shipping and the country you live in.
4. Payment Term: 30% T/T before production, balance payment before shipment; Or L/C for order up to US$50,000.
5. Porting of Loading: Ningbo / Shanghai
6. Warranty: 3 years
5 Steps of Buying Process:



Problem Recognition / Project Planning: Know what play equipment you need to take to fit in your play area and meanwhile make sure kids are gonna love them.




Information Gathering: Find products and suppliers offline or online, or ask your friends who have done this business before, and get as much useful information as possible




Evaluation of Risks / Concerns: Evaluate all the risks or concerns before you made any decision. Such as costs of the equipment, reliability of the suppliers, quality of the goods, procedures of importation, sustainability of after-sale services, etc.




Purchase Decision: After you made the purchase desion. here comes following process:
1). Buyer: Send enquiries; Seller: Send quotation / Design
2). Buyer: Confirm quotation / Design; Seller: Make PI (Proforma Invoic)
3). Buyer: Confirm PI and make deposit; Seller: Start production / Quality inspection


4). Buyer: Make balance payment; Seller: Arrange shipment




Post Purchase:
1). Get down to importing procedures / Installation team / Safety traning
2). Ask for maintainance suggestions or any other help you might need

Play is so important to optimal child development that it has been recognized by the United Nations High Commission for Human Rights as a right of every child. Play is a cherished part of childhood that offers children important developmental benefits and parents the opportunity to fully engage with their children. Play allows children to use their creativity while developing their imagination, dexterity, and physical, cognitive, and emotional strength. Play is important to healthy brain development. It is through play that children at a very early age engage and interact in the world around them.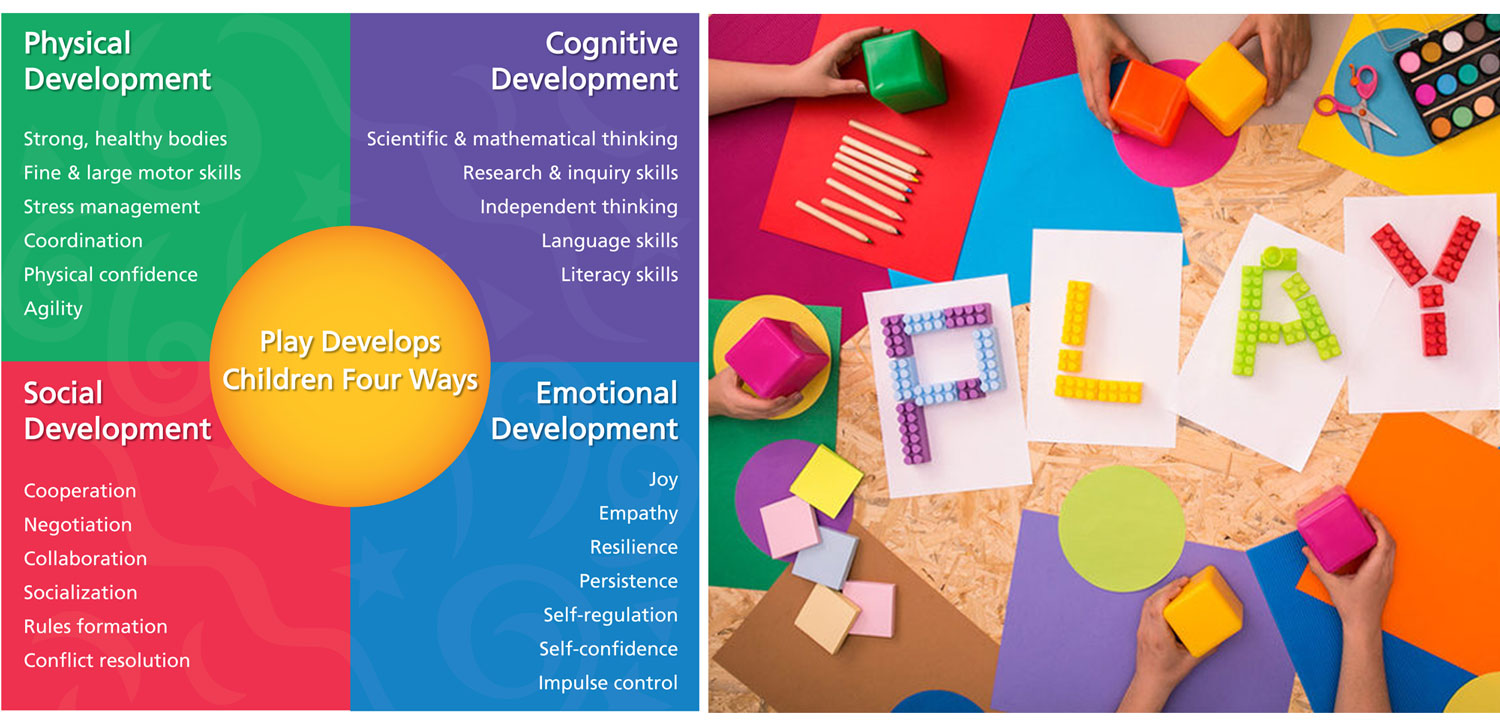 Play allows children to create and explore a world they can master, conquering their fears while practicing adult roles, sometimes in conjunction with other children or adult caregivers. As they master their world, play helps children develop new competencies that lead to enhanced confidence and the resiliency they will need to face future challenges.
As we strive to create the optimal developmental milieu for children, it remains imperative that play be included along with academic and social-enrichment opportunities and that safe environments be made available to all children.

Every company has their own advantages. And most of the advantages are pretty much the same as one to another. As for us, besides the price reason, there're other four top reasons to choose Yumiao as one of your play equipment suppliers:


Our Experience

Yumiao was founded in 2008. To date, we havesuccessfully completed tons of projects all over the world. We've helped many placeslike schools, residential areas and parks build fun and high quality play equipment for kids to play around. And the numbers are still growing.

Quality

We never compromise with our quality. During the production and before the shipment, Our QC department will supervise the whole process to make sure that the goods reached to our clients safe and sound.


Free Design

From your ideas, we design a playground that fits your needs and wants. Our 2D and colorful 3D drawings let you know exactly what your new playground will look like, FREE OF CHARGE! From your 1st committe meeting until the kids are playing on the play equipment, we will provide all of the equipment, information and services required to make your playground a project you will be proud of!

Our Support

We are not flash in the pan company. We will be here for you always. We are a no-nonsense team and will always respond promptly when you need us. All projects have free support for every critical issues. Maintenance suggestions can also be provided.

Send Inquiry
If you have any enquiry about quotation or cooperation, please feel free to email us by using the following enquiry form.
Related Products